Nanjing Sub Textile Co., Ltd
We are One-Stop supplier for Sublimation Printing Solution
SUBTEXTILE Company was established in 2009, professional provide inkjet printers and consumables products, and in the field of printing ink industry for nearly 10 years of experience in product sales and after-sales, Our products are well received by customers at home and abroad has been love and recognition, include : ink, ink cartridges, inkjet printers, heat sublimation/digital printing equipment, special sublimation ink, sublimation transfer paper etc. Provide product solutions for customers, High-quality products and best services have always been a bellwether for the company's efforts.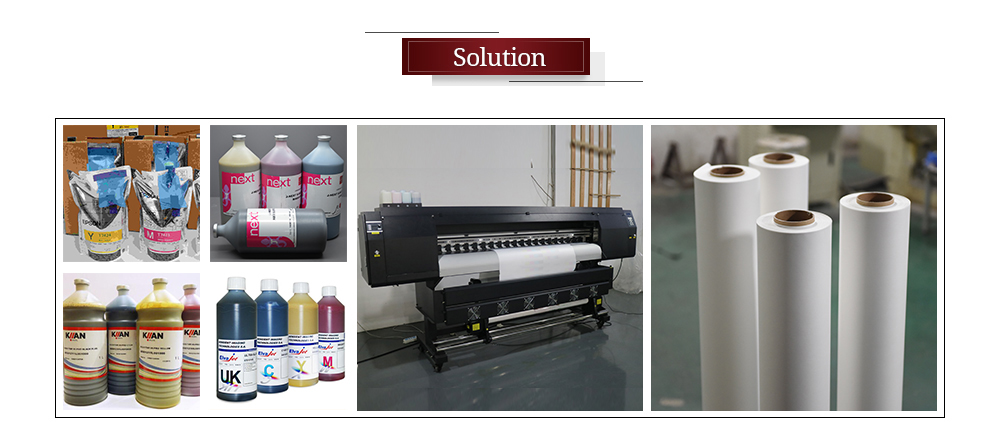 ---
KIIAN HI-PRO Sublimation Ink
Our factory has been providing premium quality inkjet printer ink for digital textile printing industry.Our sublimation ink is the leading supplier of inkjet ink and inkjet printing applications solution in China and also the China national hi-tech enterprise.We also provide a variety of brands of ink sales, you want to contact us all.
We sell sublimation cheap printer inks to our customers who do sublimation transfer printing.Kiian, Jteck, Jnext, Sensient, Inktec Sublinova, Epson original sublimation ink.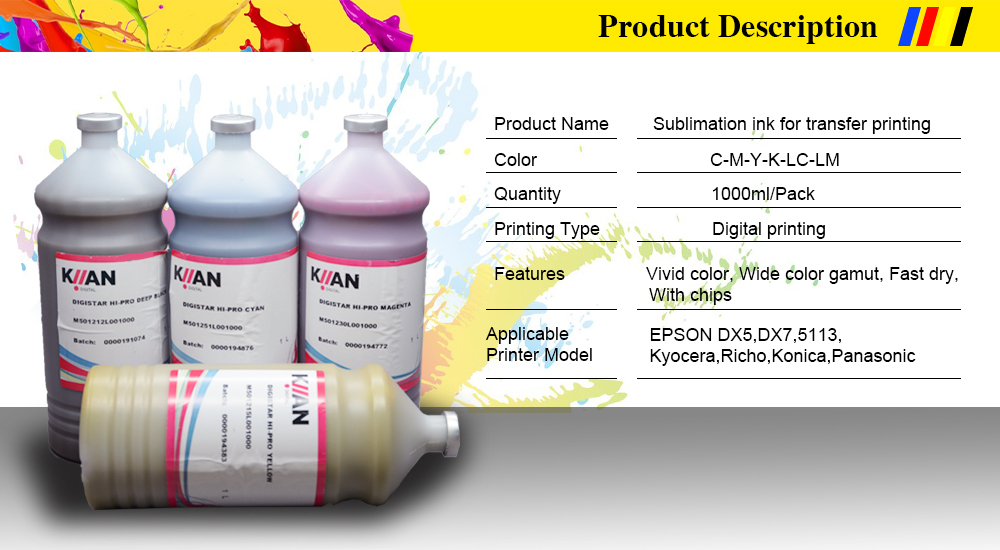 Digital sublimation ink for transfer printing. Ideal for transferring onto synthetic fabrics (polyester), onto rigid substrates (pre-treated) and onto blended fibres (min 80% PES)
---
Details

---
Features:
DIGITAL SUBLIMATION INK FOR TRANSFER PRINTING
Ideal for transferring onto synthetic fabrics (polyester)
Indicated for transferring onto blended fibres (min 80% PES)
DEVELOPED FOR PRINTING ONTO LIGHT and/or LOW COATED PAPERS
Ideal for sports wear and interior decoration
COMPATIBLE WITH DX7 PRINTHEADS (and preceding)
Compatible with the above-mentioned piezo printheads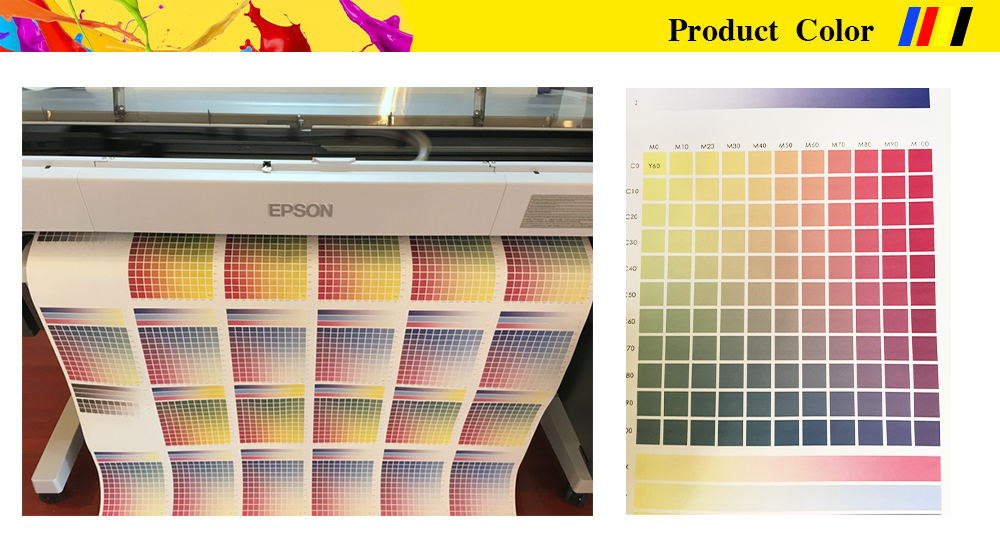 ---
Packing details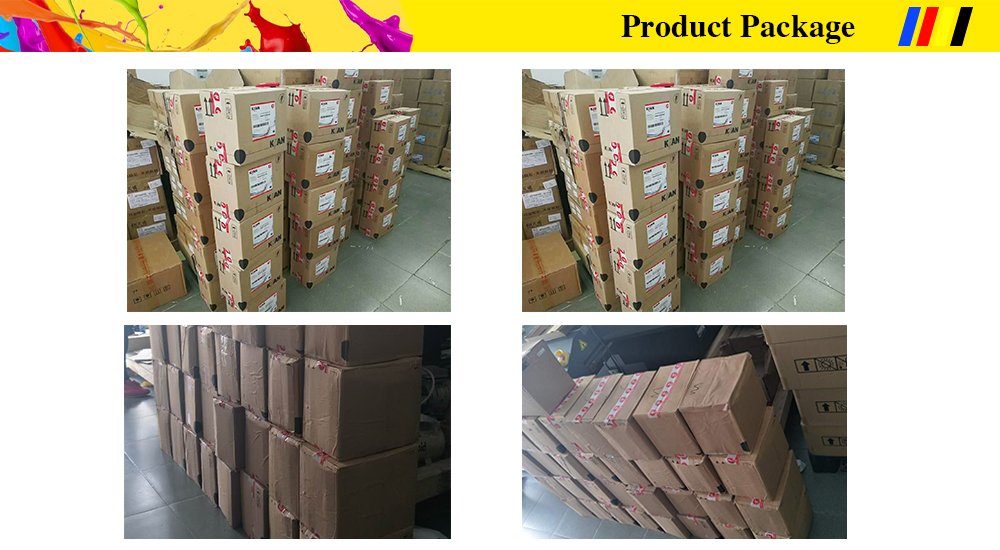 ---
FAQ
1. How to store your sublimation ink?
A: Room temperature around 10-25 centigrade.
2. What is the shipping method for sublimation ink shipping?
A: Using shipping air line.
3. How to use Epson original sublimation ink on Epson surecolor F series printer?
A: We can offer Epson original sublimation ink for Epson Surecolor F series printer, and we also offer one time chips matched.
4. Italy brand KIIAN, Jnext sublimation ink is good ink?
A: We offer original Italy based sublimation ink for KIIAN and Jnext. We also offer Inktec Sublinova sublimation ink.
---
Application
Ideal for sports wear and interior decoration
---
DIRECTIONS
It is recommended to let the product reach operative conditions in terms of temperature and humidity at least 24 hours prior to use, taking care of not stirring it, and apply the product under controlled conditions:
•RECOMMENDED TEMPERATURE RANGE: 20-25°C
•RECOMMENDED HUMIDITY RANGE:40-60%
The ink is ready to use and it is recommended to use it through the external feeding system (INK FEEDER, COE.M4087..), so that a steady printing quality is assured.
The printed paper must be transferred hot, through calender or flat press, at a temperature between 180-220°C during a varying time, between180" and 30''
Time and temperature may vary, depending on the type and nature of the material, which the transfer is made onto.
In case that a decoration of such rigid substrates, that due to their nature are not similar to the sublimation ink, is required, it is necessary to prepare this affinity, by preventively applying a coating (SUBLICOAT A+B, CODEM40810..)onto the surface to be decorated.
---
Exhibitions& Team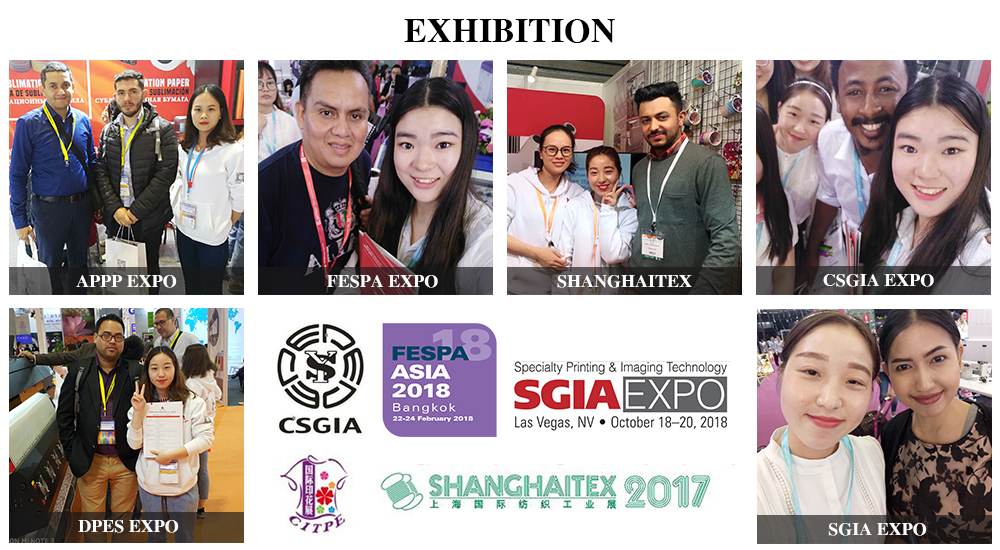 ---
Contact Us

Nanjing Sub Textile Co. Ltd
Add: East Street No.7-2 ,Waisha Village, Baguazhou, Qixia District, Nanjing City, JiangSu Province, China
P.C:213000

Export office:
699-18 ,Xuanwu Blvd.,Nanjing City,Jiangsu,China
P.C:213000
Tel:+86 25 85416407 (GLOBAL)
Fax:+86 25 85416407 (GLOBAL)
Cell:+86 17798509616
What's app: 0086 17798509616
E-mail:[email protected]

Make a complaints
Mobile:+86 17798509619(English,Chinese)
+86 17798509612 (English,Chinese)
Email: [email protected]