Subtextile

new arrival with American standard A3/A4 T-shirt transfer paper.


We can offer

laser T-shirt transfer paper

, inkjet T-shirt transfer paper, Dark Self-wedding laser transfer paper and

cotton sublimation paper

.

More details on www.subtextile.com
Application
Ideal for sports wear and interior decoration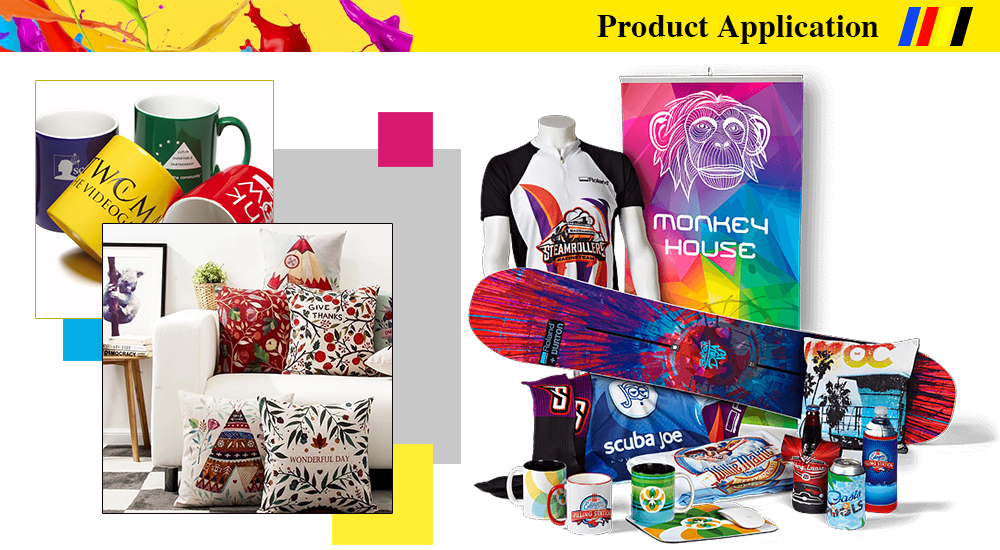 ---
DIRECTIONS
It is recommended to let the product reach operative conditions in terms of temperature and humidity at least 24 hours prior to use, taking care of not stirring it, and apply the product under controlled conditions:
•RECOMMENDED TEMPERATURE RANGE: 20-25°C
•RECOMMENDED HUMIDITY RANGE:40-60%
The ink is ready to use and it is recommended to use it through the external feeding system (INK FEEDER, COE.M4087..), so that a steady printing quality is assured.
The printed paper must be transferred hot, through calender or flat press, at a temperature between 180-220°C during a varying time, between180" and 30''
Time and temperature may vary, depending on the type and nature of the material, which the transfer is made onto.
In case that a decoration of such rigid substrates, that due to their nature are not similar to the sublimation ink, is required, it is necessary to prepare this affinity, by preventively applying a coating (SUBLICOAT A+B, CODEM40810..)onto the surface to be decorated.
---
Exhibitions& Team
---
Contact Us
Nanjing Sub Textile Co. Ltd
Add: East Street No.7-2 ,Waisha Village, Baguazhou, Qixia District, Nanjing City, JiangSu Province, China
P.C:213000

Export office:
699-18 ,Xuanwu Blvd.,Nanjing City,Jiangsu,China
P.C:213000
Tel:+86 25 85416407 (GLOBAL)
Fax:+86 25 85416407 (GLOBAL)
Cell:+86 17798509616
What's app: 0086 17798509616
E-mail:info@subtextile.com

Make a complaints
Mobile:+86 17798509619(English,Chinese)
+86 17798509612 (English,Chinese)
Email: info@subtextile.com